Vicky Mason

créatrice de bijoux
Born, lives Melbourne, Australia.


EDUCATION
2007 – 2011
Australian National University, Master of Philosophy (Research) Gold and Silversmithing, Canberra, Australia 2006 Box Hill Institute, Certificate IV in Training and Assessment, Melbourne, Australia

1993 – 1995
Otago Polytechnic, Diploma in Craft Design, (Major: Jewellery) Dunedin, New Zealand

1989 – 1992
University of Otago, Bachelor of Arts, (Major: Classical Studies) Dunedin, New Zealand

SELECTED GRANTS/AWARDS

2012
City of Melbourne Arts Grant Program 2012, Melbourne, Australia

2010
Arts Victoria, Artists in Schools Grant, Melbourne Girls College, Melbourne, Australia

2009
Contemporary Wearables Biennial Jewellery Award and Exhibition 
Award, First Prize, Toowoomba Regional Art Gallery, Queensland, Australia

2006
National Contemporary Jewellery Award, First prize: Jewellery using non precious materials, Griffith Regional Art Gallery, NSW, Australia

2005
Australia Council for the Arts, VACB, New work grant


COLLECTIONS
Toowoomba Regional Art Gallery, Toowoomba, Australia, Art Gallery of South Australia, Adelaide, SA, Australia, Griffith Regional Art Gallery, Griffith, NSW, Australia, Grundy Art Gallery, Blackpool, UK Manchester Metropolitan University, Manchester, UK, Absolut Vodka Art Collection, Sweden.

Vicki Mason statement
"German goldsmith Herman Junger, along with other jewellers, introduced a range of inexpensive materials into the vocabulary of the art jeweller in the 1960s. Combining precious and non-precious materials to question the meaning of 'value' in relation to jewellery is continually being explored by art jewellers. These works continue this tradition, working against the grain of perceived value hierarchies attached to jewellery as objects reflecting status. Non precious materials provoke new kinds of reactions. Ambiguity can be evoked, for example, as the true nature of an alternative material (that is not easy to 'read' in traditional terms) has the potential to elicit feelings that can challenge the viewer."

Déclaration de Vicki Mason
"L'orfèvre allemand Herman Junger, avec d'autres joailliers, a présenté une gamme de matériaux peu coûteux à utiliser dans la bijouterie d'art des années 1960. La combinaison de matériaux précieux et non précieux qui porte à s'interroger sur le sens de «valeur» par rapport au bijou, est toujours explorée par les joailliers. Ces travaux poursuivent cette tradition, en étant à l'encontre des hiérarchies de valeurs attachées au bijou-reflet d'un statu. Les matériaux non précieux provoquent de nouveaux types de réactions. Une certaine ambiguïté par exemple, car, accepter la vraie nature d'un matériau de remplacement (difficile à «lire» en termes traditionnels) est une sorte de défi pour le spectateur."
---
Cette artiste a participé rue Paul Fort à :
L'exposition "Au-delà du précieux, au-delà des mers"
en septembre octobre 2013
---
Photos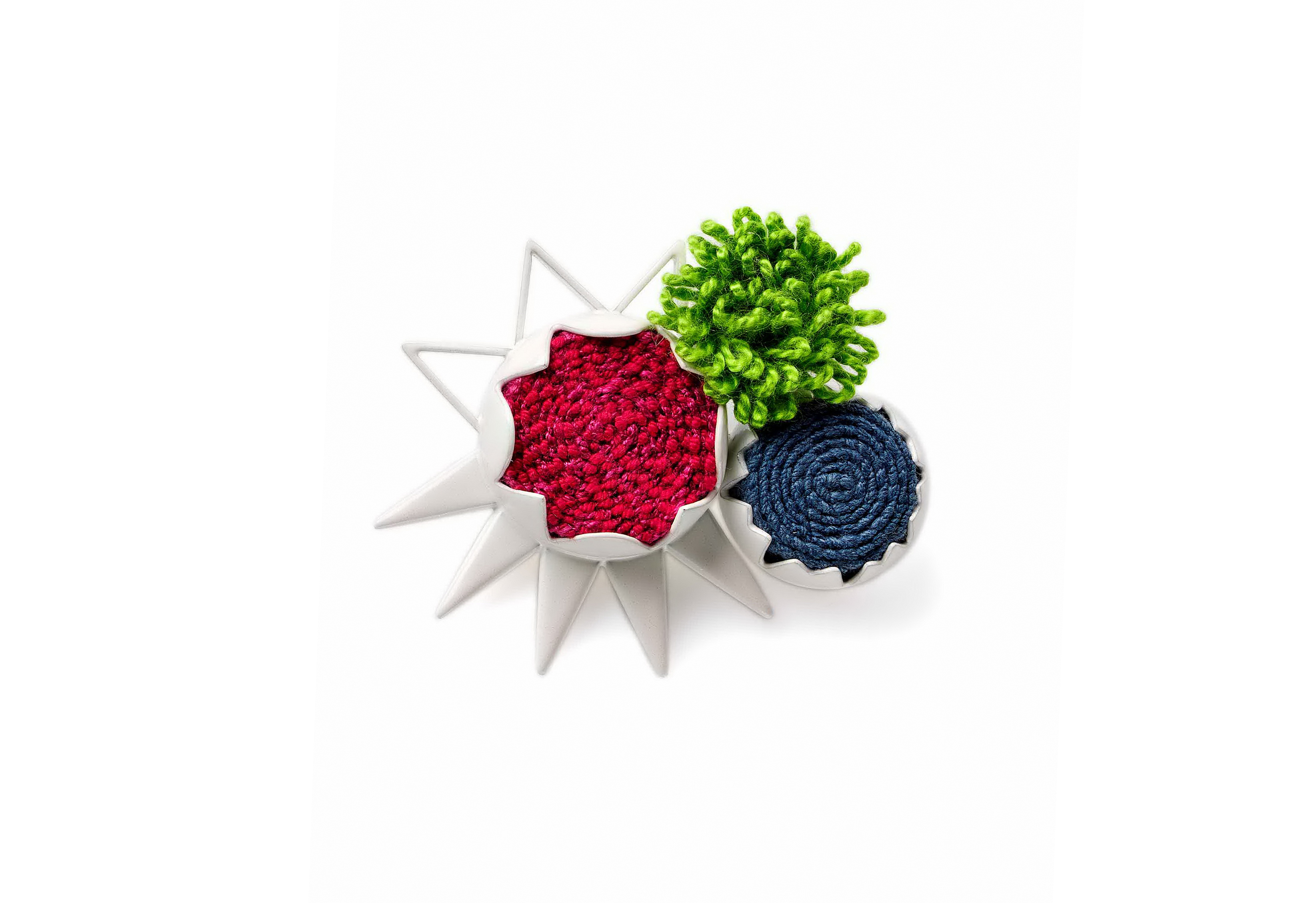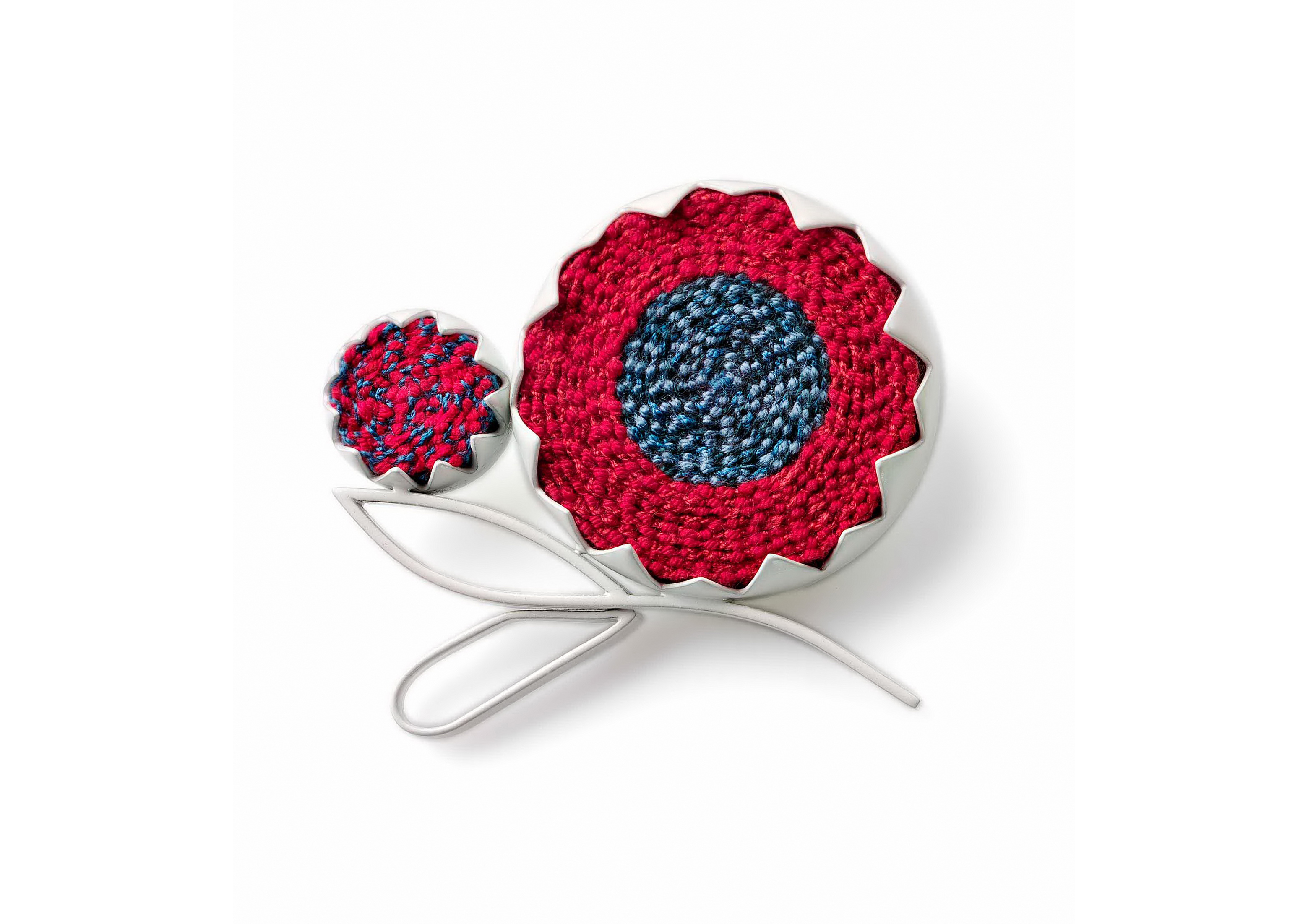 Chrysanthemum and bud bouquet (2012) : Powder coated brass, cotton 
5.5 x 6.5 x 2.3 cm - Photo : Grant Hancock 

Chrysanthèmes et bourgeon (2012) Poudre de laiton, coton 
5.5 x 6.5 x 2.3 cm Photo : Grant Hancock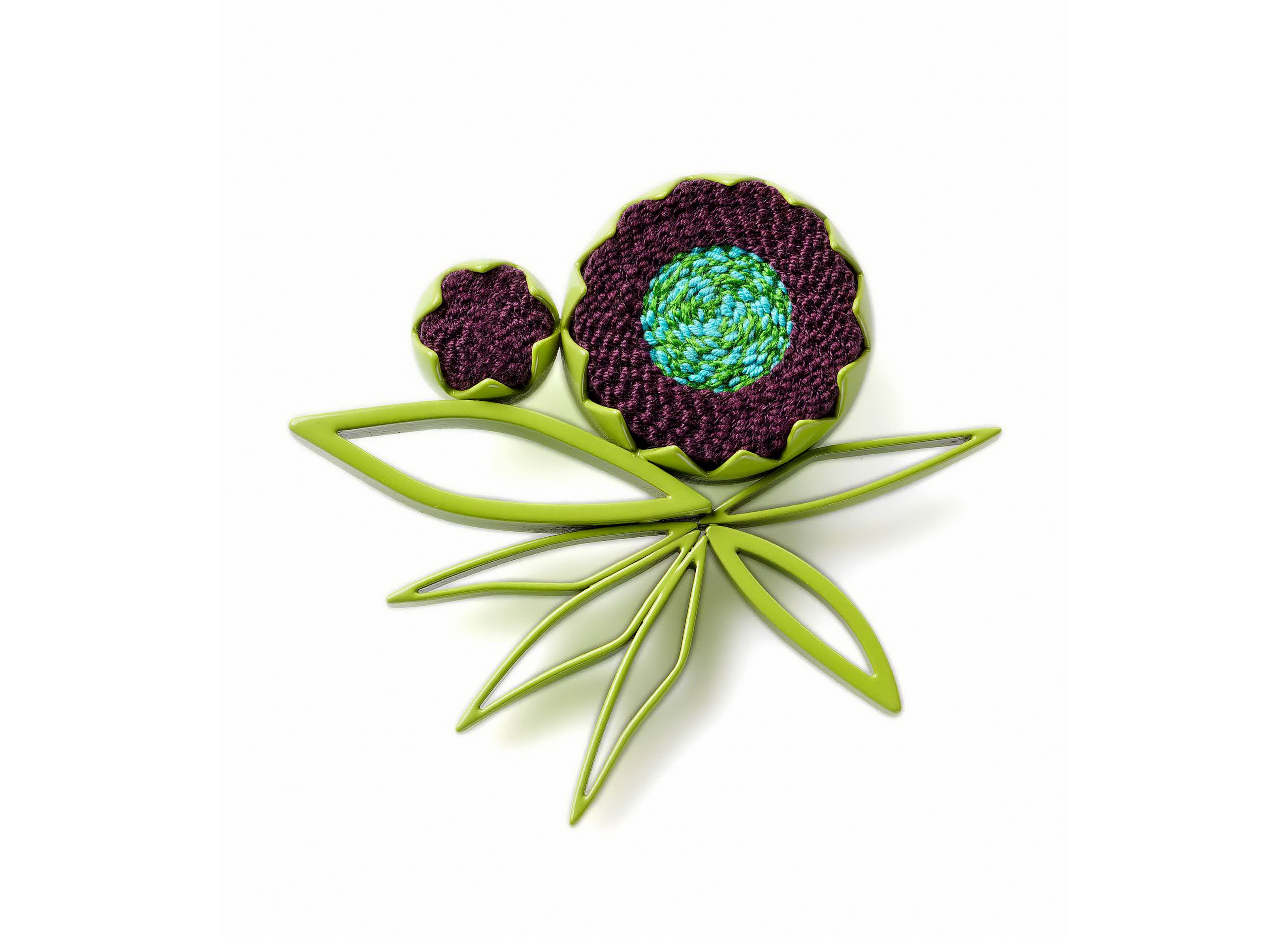 Grass and flower bouquet (2012) - Powder coated brass, cotton
6.7 x 7.7 x 1.8 cm Photo : Grant Hancock

Herbe et fleur (2012) Poudre de laiton, coton
6.7 x 7.7 x 1.8 cm Photo : Grant Hancock