Alan Preston

créateur
de bijoux
Education

Masters in Psychology. Self-taught jewellery maker

1972
Jewelry skills course at the Camden Institute London, GB.

1974
Etablished Fingers Jewellery in Auckland, NZ, along with 4 others.

2002 to 2012
Adjunct Professor Department of Design Faculty of Business and Creative Enterprise. making jewellery from materials sourced from New Zealand and the Pacific creating contemporary Pacific Adornment.

Award

1992
Best Craft Design at the DINZ Best Design Awards

1993
Creative development Grant from the QE11 ARTS COUNCIL

2006
First recipient of the Deane Award for Decorative Arts; touring show, Made in Aotearoa, for the New Dowse Art Museum.

2007
A Promotion & Audience Development Grant from Creative New Zealand led to Random House publishing Between Tides Jewellery by Alan Preston written by Damian Skinner in 2008.

Selected Publications
1983 Impulse and response: Gillian Snadden (ed) Wellington: Goethe Institute&QE11 Arts Council.
1989 Schmuckszene. Bayerischer Handweksttag
1992 Eighteen Months Later. Dunedin. Fluxus.
1993 Open Heart : Elena Gee (ed) Dowse Art Museum, Lower Hutt.
1996 Same But Different. Kobi Bosshard(ed) Dowse Art Museum, Lower Hutt.
1998 Contemporary Jewellery in Australia and New Zealand. Patricia Anderson. Craftsman House.
1998 Turangawaewae. Richard Bell(ed) Dowse Art Museum. Lower Hutt
1998 100 New Zealand Craft Artists. Helen Schamroth Random House.
2001 Micromegas. Bayerischer Kunstgewerbe-Verein Munchen.
2005 Crafted by Design.Jeanette Cook. Godwit
2006 Request Response Reaction. Stephen Crafti. Images Publishing group.
2008 Te Tataitanga/Bind Together. Universal Book Bindery. San Antonio Texas. 2008 The Compendium Finale of Contemporary Jewellers. Andy Lim.Darling.
2010 The Pocket Guide to New Zealand Jewellery. Damian Skinner VelvetDaVinci Work is held in the collections of Dowse Art Museum, TePapa Tongarewa, Wllington, Auckland Museum, National Gallery Canberra, Thomas Foundation.



Alan Preston statement
"For the past 35 years I have been making a body of work exploring Contemporary Pacific Adornment in Aotearoa, New Zealand.The precious materials I use include shell, paua shell, coconut shell, fibre, found local seeds and berries and occasionally silver and gold."



Déclaration d'Alan Preston
"Au cours des 35 dernières années, j'ai réalisé un ensemble d'œuvres explorant les ornements contemporains du Pacifique en Aotearoa, Nouvelle Zélande. Les matériaux précieux que j'utilise, sont des coquillages, paua, écorce de noix de coco, des fibres, des graines et des baies trouvées localement et parfois de l'argent et de l'or".
---
Cet artiste a participé rue Paul Fort à :
L'exposition "Au-delà du précieux, au-delà des mers"
en septembre octobre 2013
---
Photos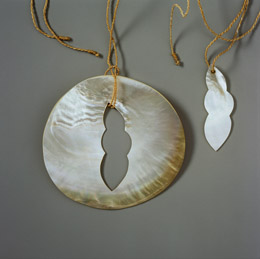 Breastplate pendant set. Gold lip Oyster shell. gold, vau (hibiscus bark).
162mm widex 160mm high pendant 47mm wide x 95mm high.

Ensemble de pendentifs pectoraux Or, coquille d'huître. or,
vau (écorce d'hibiscus). 162mmx 160mm
pendentif le plus grand 47mm x 95mm de haut.