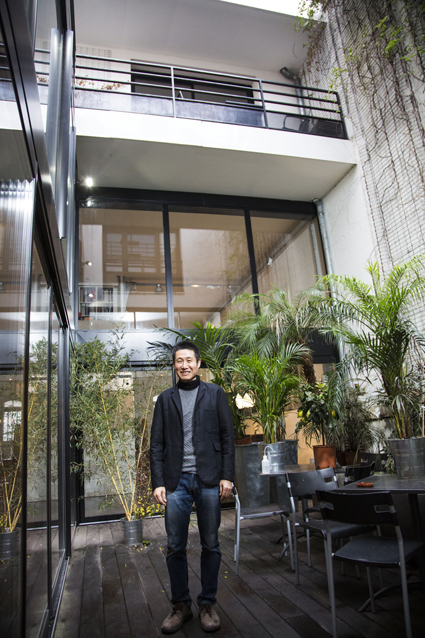 Shozo Michikawa
Céramiste
Shozo Michikawa born in Hokkaido in 1953, lives and works in Seto, Aichi.
He studied at Aoyama Gakuin University from where he graduated in 1975.
He has exhibited widely in Japan and also in the Philippines, Mongolia, France, Belgium, Germany, Canada, Switzerland, New York and London.
In 2005 he was honoured with an exhibition at the Forbidden City in Beijing.
• Selected solo Exhibition
2013
Tokyo Nisinbashi Mitukoshi Art Gallery
London Erskin,Hall &Coe
Geneva Peter Kammermann
2012
Quebec MATERIA
Paris Galerie Hélène Porée,
2011
Germany Terra Rossa
NYC Cavin-MorrisGallery
London Erskine, Hall & Coe
Belgium Puls Contemporary Gallery
2009
London Galerie Besson
2008
Paris Clara Scremini Gallery
Nagoya Galerie Fu
2007
London Galerie Besson
Manila IZUKAN GALLERY
2006
Belgium Puls Contemporary Gallery
2005
Beijing Forbidden City
Shandong Shandong Museum
Asheville Blue Spiral Gallery
• Group Exhibition
2003/05/06/08
Galerie Besson
2004/08/09/10/11/12
USA SOFA
2007
USA NCECA
2010/11/12
UK COLLECT
• Awards and Distinctions
2005
Grand Prix « CERAMIACMOSAICO » Ravenna, Italy
• Public Collection
2012
Europaisches Museum fur Modernes Glas /Germany
2009
National Museum of Wales
AberystwythAberystwyth University of Wales
UK Los Angeles County Museum of Art/USA
2007
Philadelphia Museum of Art / USA
2006
Qinglingsi Temple / Xi'an
China Japan Exchange Center/ Beijing
• Workshop
My workshops are held widely in foreign countries like Belgium, Switzerland, USA, France, Hungary, Czechand, UK.
---
Cet artiste a participé rue Paul Fort à :
Exposition « Autour du Japon (IV) en janvier-février 2014
> Lien vers l'exposition
---

Photos : démonstration de Shozo Michikawa et Koho Wada, par Xavier Lambours. traduction instantanée de Betty de Paris (14 novembre 2018). (Cliquer sur une image pour déclencher le diaporama grand format ; touche escape pour sortir).

Photos