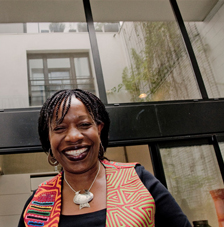 Magdalene Odundo
Céramiste
Magdalene Anyango Namakhiya Odundo, OBE (born 1950) is a Kenyan-born British studio potter. She was born in Nairobi and received her early education in both India and Kenya. She moved to England in 1971 to continue her training in graphic art.
In 1974-1975, she visited Nigeria and Kenya to study traditional hand-built pottery techniques. She also traveled to San Ildefonso Pueblo, New Mexico to observe the making of blackware vessels.
In 1976, Odundo received a BA from St. Joseph's College of Art and Design. She then earned a masters degree at the Royal College of Art in London. She taught at the Commonwealth Institute in London from 1976 to 1979 and at the Royal College of Art in London from 1979 to 1982. She lives and works in Surrey.
Odundo's best-known ceramics are hand built, using a coiling technique. Each piece is burnished, covered with slip, and then burnished again. The pieces are fired in an oxidizing atmosphere, which turns them a red-orange. A second firing in an oxygen-poor (reducing) atmosphere causes the clay to turn black; this is known as reduction-firing.
Many of the vessels she creates are reminiscent of the human form, often following the curves of the spine, stomach, or hair. Her work may be found in museum and private collections worldwide. She is Professor of Ceramics at the University for the Creative Arts, Farnham, England. Awarded the African Art Recognition Award by Detroit Art Institute in 2008. She was appointed Officer of the Order of the British Empire (OBE) at the 2008 Birthday Honours.
Magdalene Odundo is represented by Anthony Slayter-Ralph gallery.
Footnotes Magdalene Odundo :
Ceramic Forms Although Magdalene Odundo's vessels have no utilitarian or ritualistic function and are created with a process thousands of years old, they seem unreservedly contemporary. Using traditional potting techniques, Odundo fires her work in wood chips. By burnishing her hand-built coils, covering them with slip, and burnishing them again, they oxidize during firing, creating a smoky, blackened surface, reminiscent of traditions and techniques used in ages past and reflective of African ceramic history.
Born in Nairobi, Kenya and trained as a graphic artist, Odundo studied in India and England, receiving a BA from St. Joseph's College of Art and Design in Surrey and a MA from the Royal College of Art, in London. She returned to Africa to study the hand-building and firing techniques of the indigenous women of Kenya and Nigeria, and applied them to her black ware vessels.
A professor of ceramics in Surrey, Odundo was appointed Officer of the Order of the British Empire in the Queen's Birthday Honours List for Service to the Arts and was awarded the African Art Recognition award by the Detroit Art Institute. She has had extensive solo and group exhibits, served as faculty artist at Haystack in Maine and Artist in Residence at Huara Huara, Santiago, Chile.
Her vessels are included in the permanent collections of prominent museums including the Art Institute of Chicago, Metropolitan Museum of Art, Brooklyn Museum, LA County Museum of Art, Victoria and Albert Museum, British Museum, and the Smithsonian.
Exhibition Preview Saturday, July 31, 5-7 pm thru October 9
The sinuous ceramic vessels created by contemporary artist Magdalene Odundo have been praised for their elegant aesthetic appeal. While their beauty can derive from the simple appreciation of their graceful forms, Odundo's vessels blend multiple associations and meanings in a manner that makes them simultaneously familiar and novel. This example from the Museum's collection is comprised of a round-bodied pot and an elongated, wide-mouthed neck. There are four small nodules at the base of the neck, and two more centered on opposite sides of the main body. Odundo creates her works using the coiling method—a practice thousands of years old and found worldwide.
She begins by pulling a cone of clay upward as its middle is hollowed out to form the body of the vessel. Many of her pieces feature a round, voluptuous body; variation is expressed in the profile and gesture of the neck. Within this limited vocabulary of shapes, Odundo focuses on small physical additions and modifications to maximize aesthetic impact. It is through firing that Odundo's vessels are transformed and finished.
A piece is fired in one of two ways : in a purely oxidizing atmosphere, which turns the vessel a natural luminous red-orange, or in an oxidizing followed by a reducing atmosphere, which produces a rich charcoal-black. The gray/black tones of this piece are probably the result of partial reduction during the firing process. The exact outcome of firing is uncontrollable, adding a small element of chance to the artistic process. In this case, it may have aided in forming the abstract-expressionist qualities of the color scheme.
Odundo's work explicitly acknowledges a link to the pottery traditions of Africa—indeed, in much of Africa, ceramic is a medium primarily associated with female creativity, and the anthropomorphic references to the female body in her work literalize that connection. The work, however, reveals a thorough knowledge of non-African traditions, including the complex vessel shapes of ancient Cyprus, the geometry of Cycladic figures, the heavy forms of Japan's Jomon culture, and the unusual gourd-shaped pots of the Pokot of Kenya, among many others.
Although Odundo was born in Kenya and received initial training as a graphic artist there, it was in England that she explored an interest in clay, after which she traveled to Kenya, Nigeria, the southwest United States, and many other locales to study indigenous pottery techniques. She then completed a master's degree at the Royal College of Art in London, where she continues to live and work.
The blend of influences present in her work prevents Odundo from being pigeonholed as a strictly African artist. Her profound exploration of the technical and expressive possibilities of the ceramic medium has created work unique within the landscape of contemporary art.
---
Cette artiste a participé rue Paul Fort à :
Une exposition de groupe intitulée « France-Angleterre », dans le cadre du « Circuits céramique » en septembre 2010.
> Lien vers l'exposition
---
Photos