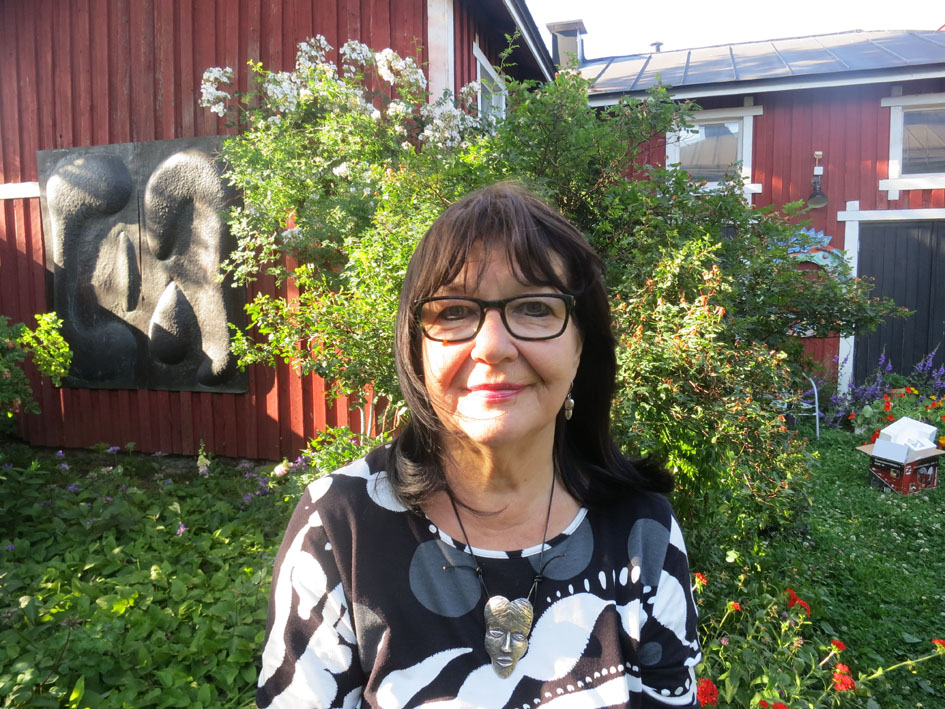 Eila Minkkinen
Créatrice de bijoux
Silver smith, sculptor
> site web
MEMBERSHIPS
The Association of Finnish Sculptors, Ornamo, Arte ry, Helsinki artists association Rauma artists association
STUDIES
1960-64
Eveningschool of Applied Arts, Helsinki
1962-65
Apprentice in a goldsmith's workshop
1965-69
Academy of Applied Arts, faculty of metal art
1969
Licensed silver smith
1969
Free artist
1970-80
Freelance jewellery designer for industry
1972-79
Teacher at the training center of the Academy of Applied Arts
WORKS IN COLLECTIONS
The State of Finland
Museum of Applied Arts, Helsinki
Museè Arts Decoratifs, Paris (Louvre)
Court of Justice of the European Communities
Iparmüvészet Múzeum, Budapest
Province de Liège, Belgium
Rauma Art Museum, Rauma
Jyväskylä Art Museum, Jyväskylä
Pori Art Museum, Pori
Lönnström Art Museum, Rauma
Lahti Historical Museum, Lahti
Sampo-Bank Collection
Rauma, Pori, Kotka, Jyväskylä, Harjavalta,Äänekoski town collection etc.
Lars and Helena Pahlman´s private collection
Taideyhdistys ry´s collection
Several banks and private persons
PUBLIC WORKS
Lönnström Art Museum, Rauma
Kaunisjärven Old people´s home, Rauma
Metsä-Rauma pulp-mill, Rauma
UPM- Kymmene papermill, Rauma
Institute of Commercial training, Rauma
Finnish Foreign Trade Association,
Helsinki Finnish Employers' Association, Helsinki
Vaasa swedish school of Economic, Vaasa
Rovaniemi University, Rovaniemi
State Office Building, Turku
Kemira Agro, Harjavalta
Outokumpu Copper, Pori
Institute of Nursing, Rauma
Oras Oy, Rauma
Mikrolli Oy, Rauma
Forchem Oy, Rauma
Harjavalta City Education Center, Harjavalta
Public swimming pool, Rauma
Public library, main building, Rauma
Ministry of education, Helsinki
Rauma town hall
Nordea bank, Tapiola, Espoo
Mäntykangas school, Kokkola
SOLO SHOWS
1971
Taidesalongin kellari, Helsinki, Finland
1980
Artisaani, Helsinki, Finland
1982
Brahen Galleria, Turku, Finland
Ässä Galleria, Helsinki, Finland
1983
Galleria Metallum, Stockholm, Sweden
1984
Artisaani,Helsinki, Finland
1985
Poriginal Galleria, Pori, Finland
1986
Galleria 585, Helsinki, Finland
Galleria Strindberg, Helsinki, Finland
1989
Galleria Brinkkala, Turku, Finland
Galleria Saskia, Tampere, Finland
1990
Galleria 25, Helsinki, Finland
Galleria Sirius, Jyväskylä, Finland
Rauma Art Museum, Rauma, Finland
1991
Galleria Uusikuva, Kotka, Finland
1992
Finnish Glas Museum, Riihimäki, Finland
Kouvola Art Museum, Kouvola, Finland
1993
Lönnström Art Museum, Rauma, Finland
1994
Poriginal Galleria, Pori, Finland
1995
Oulu Youth and Culture Center, Oulu, Finland
Järvenpäähouse, Järvenpää, Finland
1997
Galleria Räikkälä, Kankaanpää, Finland
2001
Lönnström Art Museum Studio, Finland
2003
Pori Art Museum, project room
Porvoo Art Hall
Malmitalo Galleria, Helsinki
2004
Sanoma House, Helsinki
2005
Adamson-Ericu Museum, Tallinn
Galleria Joella, Turku
Galleria Becker, Jyväskylä
Retrospectiv 1962-2005, Designmuseum, Helsinki
2010
Harri Art Centrum, Alavus
2011
Facebook in metal, Helsinki Main Library
Äänekoski Art Museum, Äänekoski
COLLECTIVE EXHIBITIONS IN FINLAND
1969
« New Jewellery », Finnish Design Center, Helsinki
1972
« Young Artists' Exhibition », Art Hall, Helsinki
1973
« Ornamo's exhibition of Applied Arts », Amos Anderson, Art Museum, Helsinki
1974
Invitation exhibition of Applied Arts, Tampere Art Museum, Tampere
1975
« Finnish Association of Applied Arts 100 Years Jubilee Exhibition », Ateneum, Helsinki
1976
« Ceramics and Jewellery », with R. Tulonen, Hyvinkään Taidetalo, Hyvinkää (and 1977 Hvitträsk, Kirkkonummi)
1978
« New and Unique », Kluuvin Galleria, Helsinki
1980
« Finnish Design I », Museum of Applied Arts, Helsinki
1981
« Finnish Design II », Museum of Applied Arts, Helsinki
« Living metal I », Museum of Applied Arts, Helsinki
« Ars Rauma '81 », invitation exhibition of applied arts, Rauma Art Museum, Rauma
Rauma Artists' Association's annual exhibition, Rauma Art Museum, Rauma (and 1983,-88,-89,-93,-95,-96)
1982
« Finnish Design II », Joensuu Art Museum, Joensuu
« Visual Arts from Satakunta », Rauma Art Museum, Rauma
1983
Helsinki Craftsmens Cooperative, Helsinki
« Finnish Design III », Museum of Applied Arts, Helsinki (and Kuopio Art Museum)
1984
« Living metal II », Museum of Applied Arts, Helsinki
1985
« Finnish Design IV », Museum of Applied Arts, Helsinki,
« New Harvest », invitation exhibition, Pori Art Museum, Pori
Rauma Biennale Balticum – Contemporary Art from the Baltic Sea Region, Rauma Art Museum, Rauma
1986
« Finland is Daydreaming », Ornamo's exhibition of Applied Arts, Helsinki Art Hall, Helsinki
Turku and Pori Province Regional Exhibition, Karvatti, Naantali
1987
« Light and Matter », Helsinki City Art Museum, Helsinki
« Zeitgenössisches deutsches und finnisches Kunsthandwerk », 4. Triennale, Museum of Applied Arts, Helsinki
Rauma Artists' Association, Taidekeskus Mältinranta, Tampere (and the gallery of Turku Artists' Association, Turku)
« Finnish Design », exhibition of applied arts, Tampere Art Museum
1988
« Rauman Taulu ja Patsas », Seinäjoki Art hall, Seinäjoki (and Hyvinkää Art Museum; Rauma Art Museum)
Rauma Artists' Association, Poriginal Galleria, Pori
1989
« Finnstation », installation, Finlaysonin kehräämö, Pori
« Sacrificial Grove », groupwork, Muu ry's summer exhibition Billnäs, Pohja Commune
« Cosmic Secon-Hand Shop », Turku Cultural Centre, installation in metal (and Galleria Saskia, Tampere)
« Expensive Living », groupwork, Galleria Kriittinen Tila, Helsinki
Turku and Pori Province Regional exhibition, Pori Art Museum, Pori
« Inside – Outside », Ornamo's exhibition of applied arts, Kluuvin Galleria, Helsinki
1990
« Raumakuuskajaskariluonaistuulta14m/s », Turku and Pori Province applied arts exhibition, Rauman Art Museum, Rauma
1990 Finnish Design, Museum of Applied Arts, Helsinki
« Stolen Kiss », groupwork, Rauma Art Museum, Rauma
« House of Dreams », installation, Vaasa Theater Summer
Rauma Art Museum 20 years jubilee, Rauma Art Museum, Rauma
1991
« Banquet as a Matter of Form », Turku Cultural Centre
« Yökköjen Yö », earth installation, Rauma Art Museum
1993
« Materia », Taidekäsityöläiset Taiko ry's 10 years jubilee exhibition, Helsinki Art Hall, Helsinki
« A dead fish does not swim », Galleria Wanha Tasala, the shack at the backyard. Joint venture with the Rauma Artists' Association and the Hungarian MAMÜ group in the project « Eleven hal uszkal viz alatt » at Galleria Wanha Tasala, Rauma
1994
« Heinäkuuryhmä », Täky Galleria, Lappeenranta
Womens' Forum 94, Brinkkalan galleria, Turku
Turku Artists' Association 70-year jubilée-exhibition, Turku Art Museum, Turku
Rauma Artists' Association, Emil Cedercreutz Museum, Harjavalta
1995
« Ars Karhulinna 95 », Satakunta province exhibition, Pori
Rauma Artists'Assosiation 50-year jubilee-exhibition
« Mänttä Visual Arts Weeks », Mänttä, Finland
« Arteological Findings », Aboa Vetus and Ars Nova, Turku, Nordic Art Center, Suomenlinna, Helsinki, Finland
1996
« Escapade », Rauma Artists' Association, Turku Cultural Centre, Turku
The Bridge », Rauma Artists' Association and the Ostrobothnian Artists Union, Lönnström Art Museum, Rauma
« Woman as an Artist », computer junk jewellery and earth installation »Milk of mother earth », Lönnström Art Museum, Rauma
1997
« Whipped cream » Turku and Pori Providence Regional Exhibition in Rauma Art Museum, Lönnström Art Museum, Aland and Nortälje Art Museums, Sweden
1998
« Turku Biennale » Ars Nova Museum, Turku
Alpo Jaakolas sculpture park, Loimaa
1999
« InDoor – OutDoor » exhibition, Lönnström Art Museum, Rauma
« 23 Sculptors » in Kaapelitehdas, Helsinki
2000
« häh » Art happening in Lahti
2001
« Metals » group exhibition, Fiskars
« Finnish Jewellery 3 », Porvoo, Mikkeli and Kuopio
Turku Artists Association 75-year jubilee-exhibition Just Gallery, Turku
« Neljän tuulen tiellä » group exhibition in Salo Art Museum
2002
« miniAtyyri » group exhibition, Galleria G, Huittinen and Ars Nova Museum, Turku
2003
« Virtaa » Uusimaa province group exhibition, Porvoo
2004
« Ars Rauma » four Rauma artist in Rauma Art museum
2005
« Sata palaa » 100 artist from Satakunta, Lönnström Art museum, Rauma
 » Metal Art in Leineperi » Leineperis historical ironnworks, Ulvila
 » Sculptors2005″ sculptors association 95- years jubilee exhbition, Salo Art museum
« INTOhimoisesti » artists from Satakunta, group exhibition, Suomenlinna Helsinki and Rauma Art Museum, Rauma
2009
« Kokoelma ja Kutsu »- exhibition Lönnström Art museum, Rauma
« Finnish jewellery 1600-2009 » Designmuseum, Helsinki
2010
« Koko Kuva » Arte ry. 50-years jubilee exhibition, Wäinö Aaltonen museum, Turku
2011
« Back Yard » Sculpture Garden. Hanko
COLLECTIVE EXHIBITIONS ABROAD
1970
International Exhibiton of Jewellery, Wien, Austria
1971
International Exhibition of Jewellery,Munchen Bundesrepublik Deutschland
1974
« The First World Crafts Exhibition », Art Center of Ontario, Toronto, Canada
1975
« The Harris Art Festival », England
The Finnish Association of Applied Arts, travelling exhibition: Warsaw, Zagreb, Belgrad, Lyon and Budapest
1976
The Finnish Association of Applied Arts, travelling exhibition: Linz, Prague, New York, Los Angeles and Chicago
1977
The Finnish Association of Applied Arts, Antwerpen, Belgium
1979
« New Finnish Design », Ornamo, Fredrikshavn, Denmark
The Finnish Association of Applied Arts, travelling exhibition: Oslo, Bergen, Tronheim, Norwey; Reykjavik, Iceland, Ankara, Turkey
1982
The Finnish Association of Applied Arts, travelling exhibition: Beirut, Libanon; Amman Jordan; Oslo, Bergen, Norwey; Göteborg, Sweden; Aarhus, Denmark
« Applied Art from Scandinavia », Kanazawa, Japan
1983
Reykjavik, Iceland; Västerås, Sweden
The Finnish Association of Applied Arts, Design Center, Malmö, Sweden
1984
Rauma Artists' Association, Kolpino, Soviet Union
1986
« Daydreaming in Finland », Ornamo exhibiton of Applied Arts, Fredrikshavn, Denmark
« Inspirations Finlandaises », The Finnish Association of Applied Arts, travelling exhibition, Tirana, Bukarest, Athens, Ankara
1987
« Zeitgenössisches deutsches und finnisches Kunsthandwerk », 4. Triennale, Museum für Kunsthantwerk, Frankfurt am Main, Bundesrepublik Deutschland
« Schmuckszene '87 », München, Bundesrepublik Deutschland
« 25 x Junger Schmuck International », Galerie Kunsthantwerk, West Berlin (and Hamburg; Mainz), Bundesrepublik Deutschland
International Exhibiton of Jewellery, Celje, Yugoslavia
1988
« Zeitgenössisches deutsches und finnisches Kunsthandwerk », 4.Triennale, Kestner Museum, Hannover, Bundesrepublik Deutschland
International Exhibiton of Applied Arts, Oreshak, Bulgaria
« New Form from Finland », Royal Museum of Scotland, Edinburg, Englanti
1989
« Inspirations Finlandaises », Kuala Lumpur, India (and Malesia; Ahmedabad; New Delhi)
1990
« Finnish Design and Architecture », exhibition of the Finnish Association of Applied Arts, Madrid, Spain (and Gijon, Bilbao, Barcelona)
« Ars Sonora », I Festival International de Radio Art, Radio National de Espana, Radio 2, Spain
Triennale Européene du Bijou, Paris, France
Triennale Europeéne du Bijou, Palais Luxembourg, Paris France
1991
Ars Sonora, Il Festival International de Radio Art, Radio National de Espana, Radio 2, Spain 1992
Triennale Européenne du Bijou, Musée des Arts Décoratifs, Paris, France
1993
Design et Industrie, la Diversité Finlandaise. Villeurbane, France
1994
The Name of the Game, Vízivárosi-Galéria, Budapest, Hungary
10+10, Swedish and Finnish Applied Art, Västerås Art Museum,Västerås, Sweden
1995
Design Finlandais, Nizza, Contemporary Art Museum, France
Outpost Biennale, visiting card venue, Venice, Italy
1996
Bijoux Contemporains en Images, Cagnes sur Mer, France
1997
« Finnish jewellery » Gallery Hipotese, Barcelona, Spain
Sculptur exhibition with Pori artists in Valencia, Spain
2000
Sculptures in « Euro-Fire Land of Liege » exhibition, Liège Belgium
« Ego Adorned », 20 th Centure Artists´Jewellery, Koningin Fabiolazaal, Antwerpen
2001
Galleria Stolker, sculptures, Enschede, Holland
« The Ring », Mobilia Gallery, Cambridge, MA, USA and SOFA in New York and Chigaco
Charles.A Wustum Museum of Fine Arts, Racine, Wisconsin
2002
« Jewelry in Paintign » Mobilia Gallery, Cambridge, MA,
« The ring » Colorado Springs Art Center, Colorado USA
University of Texas, El Paso, Texas USA
2003
Ruthin Craft Center in Wales, England
2008
Design contemporain finlandais, promenons-nous dan le bois Musée les Arts Décoratifs, Paris
2011
« Racconti dal Nord » Castel del Ovo, Napoli, Italy
AWARDS, GRANTS AND SCHOLARSHIPS
Several sholarships from Finland State, Finnish Kulturfund and Uusimaa, Turku and Pori county treasury. Helsinki town, and Foundation of Greta and William Lehtinen sholarship. Wärtsilä and Ornamo grants.
1978
Finland's State artist grants for half year
1990
Tuuli award from Turku and Pori province
1991-93
Finland's State artist grants for tree years
1992
Finland's State award of applied art
1995
Newspaper Länsi-Suomi artmedal
1999
Finland's State artist grants for five years
2002
Rauma town 560 year jubilee culture medal
2004
Rauma town culture prize
Artist of the year, grant by Ornamo ry
2006
State Artist Pension
LITTERATURE
1975-83
Yearbooks of Finnish Society of Crafts and Design, Helsinki
1972,1983,1986
Svenk Form, Stocholm Sweden
1981/2, 1990/2, !992/2,1993/1, 1993/4
Muoto magasin, Ornamo ry. Helsinki
1982
Scandinavian and Japan Craft and Design Exhibition catalog, Kanazawa, Japan
Finland Gestaltet, Die Trends der letzten Jahre, edit. Pirkko Tenkama, The Finnish Society of Crafts and Design, Helsinki
Jewelry Consepts and Technology edit. Oppi Untracht, Robert Halle Ltd, London
1985
Rauma Biennale Balticum exhibition catalog, Rauma Art Museum, Finland
1986/2, 1986/3, 1990/2, 1991/3, 1992/2, 1998/4
Form Function Finland magasin, The Finnish Society of Craft and Design, Helsinki
1987/4
Art Aurea magasin, Ebner Verlag, Ulm, Germany
1987
Zaitgenössiche deutsches und finnishes Kunsthandwerk 4 Triennale, Museum fur Kunsthandwerk Frankfurt am Main und Kestner-Museum Hannover, Germany
1988
Valo ja Aine, exhibition catalog, Helsinki Art Museum, Helsinki
1989
Suomalainen hopeataide, edit. Tuula Poutasuo Kirjayhtymä, Helsinki
1990
Ars Suomen Taide part 6, edit. Salme Sarajas-Korte,Otava, Helsinki
1991
Muodon Kuvat, edit. Julian Balint, Ornamo ry.Helsinki
Finnish Artists index, Artists Society, Helsinki
1992
Finnish Design from Finland, edit. Rita Taskinen, Ornamo ry. Helsinki
III éme Triennale de Bijou. Musée des Arts Décoratifs, Paris, France
1993
Mäntän kuvataideviikot,exhibition catalog, Mäntän kuvataiteenystävät ry.Mänttä
Projets singnliers, Design et Industrie, la diversité Finlandaise, Maison du Livre de l'image et du Son, Villeurbane, France
Materia, edit. Hilkka Niemi, Taiko/Ornamo ry. Helsinki
1995
Nordic Jewllery, Concept Jan Lohmann, Lise Funder, Nyt Nordisk Forlag, Arnold Busck A/S, Copenhagen, Danmark
1996
Nainen taiteilijana, exhibition catalog, Lönnström Art Museum, Rauma Finland
Bijoux et Orfèvrerie de créateurs, exhibition catalog, Les Musées de Cagnes -Sur -Mer Chateau, Musée- Musée Renoir, France
WSOY.n Iso Tietosanakirja part 6, Werner Söderström Co., Helsinki
1998
Rakkaat Vanhat Tavarat, toim. Leena Nokela, Otava, Helsinki
The Ring past and present, edit. Sylvie Lambert, Rotovision, Swiss
Fakta 2001, part 23 (supplement), Werner Söderström Co., Helsinki
2000
The Ego Adorned, 20th- Century Artists' Jewellery, edit. Jan Walgrave, Province Antwerpen, Belgium
2001
The Ring, The art of the ring, Mobilia Gallery, Cambridge, MA USA
2003
Suomalainen koru, edit. Eija Mäkelä and Karin Bonde-Jensen, Art-Print, Helsinki
Uusi Antiikkikirja 1900-1980, Wentsel Hagelstam and Pirjo Hämäläinen, Wsoy, Helsinki
2004
Finnish Artists index, Artists Society, Helsinki
2005 and 2011
Who is Who in Finland, Otava, Helsinki
2005
Patinaa ja pauketta, Eila Minkkinen works 1962-2005,ISBN 952-91-8730-0
2008
Design contemporain Finlandais, Promenonsnous dans le bois, Les Arts Décoratifs, Paris
2011
Äks, Kosketuksia, M.steffansson, T. Piilonen, T. Vuorinen
Retroaarteet, edit. Anna-Kaisa Huusko / Juho Huttunen, WSOY, Helsinki
Artisaani-ilmiö, toim. Päikki Priha, Aalto University`s publication.
WORKING ABROAD

1987 and 1997
Cite´internationale des Arts, Paris
1990
Finnish Foundation for Visual Arts, New York
1993, 1998 and 2012
The Association of Finnland atelje in Grassina, Italy
1997
The Association of Finnland atelje in Marbella, Spain
2001
Finnish Institut Villa Lante, Roma, Italy
2008
Finnish Cultur Centrum Villa Karo, Grand Popo, Benin
2009
Circolo Skandinavo, Cultur Centrum, Roma, Italy
« I love using different materials mainly silver, but also paper, bones, stones, computer junk… every one has his own property and value. The value of jewellery is an agreement between artist and user. The world offers endless things to discover for someone who knows where to look. On the other hand, if you look at the world through a strict ideology, you'll only see what you have learned to see". Eila Minkkinen
« J'aime utiliser toutes sortes de matériaux, principalement l'argent, mais aussi, papier, os, pierres, rebut informatique… chacun avec ses propriétés et sa valeur. Le monde offre un nombre infini de choses à découvrir à quelqu'un qui sait voir.Mais si on regarde ce monde à travers le filtre d'une idéologie, on ne voit que ce qu'on a appris à voir ». Eila Minkkinen
---
Cette artiste a participé rue Paul Fort à :
L'exposition « Au-delà du précieux, au-delà du temps » en décembre 2013
---
Photos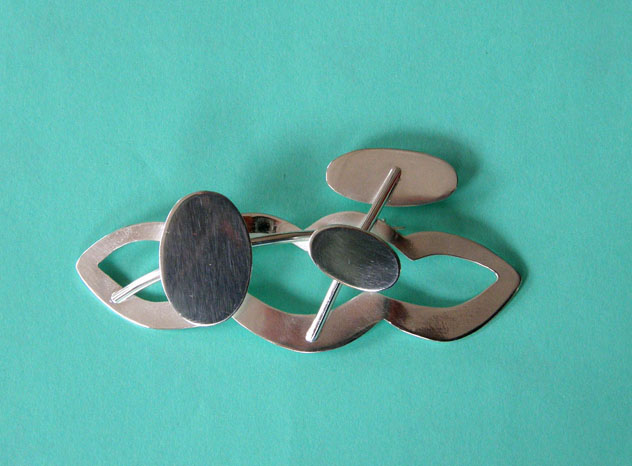 Brooch :  « Moon bridge »(2011), silver
Broche en argent : « Pont sur la Lune »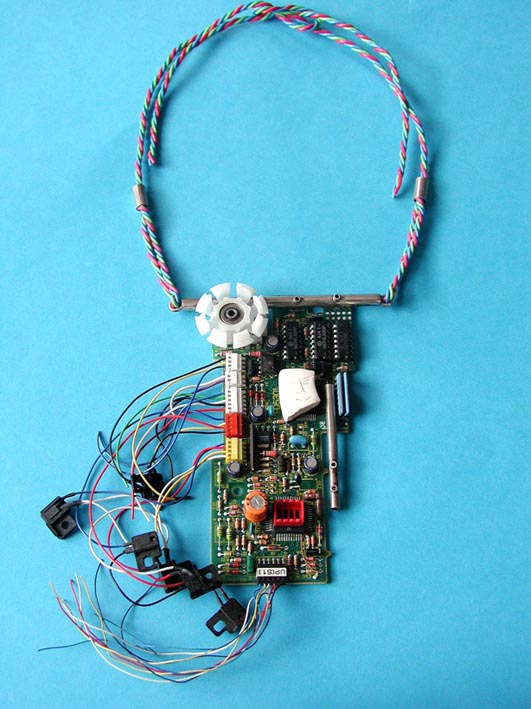 Necklace (1997) : " What has happend after mammoths?", computer junk, mammoths bone, silver and electric wire
Collier (1997) : « Qu'est-il arrivé après les mammouths ? », rebut informatique, os de mammouths, fil d'argent et fil électrique.